What is the Best CPU for Plex?
A common question when building a Plex server is "what is the best CPU for Plex?" The CPU is probably one of the most important components in a Plex server, and choosing the wrong CPU can cause problems with streaming your media.
In this article, I will look at which CPU would be best for your Plex server based on the needs of your server. As with many things in life, one size does not fit all with regard to the CPU in your server.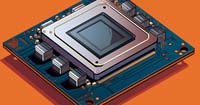 Factors to determine the best CPU for Plex
There are many different types of CPU available, so narrowing down the right one can be complicated. To determine the right CPU, you will need to ask some questions:
Will the server be dedicated to Plex, or will Plex share the server with other applications or services?
Will Plex be running in a virtual machine, container, or bare metal (installed directly on the server)?
What is the cost of electricity?
Will the server need to transcode 4K HDR?
What do you expect to change in the future with regard to Plex and streaming? For example, will you start with streaming 1080p and move to 4K HDR?
How many users will be streaming concurrently? How many will be transcoding concurrently?
Answering the above questions, and taking into account any future changes to your streaming needs, will help determine which CPU will work for your Plex server.
While it will be impossible for me to provide an answer to every Plex server scenario, I'll break down some common scenarios that you can use to make your CPU choice.
Most of the CPUs discussed below will make use of hardware transcoding to allow streaming to any client. Hardware transcoding requires Plex Pass, so if you haven't already purchased Plex Pass, I highly recommend it.
Dedicated Plex server
Let me start with first talking about a CPU to use for a server that is solely dedicated to Plex, or will have low-usage applications installed.
For such a situation I would choose an Intel i3 7th generation or later processor. The reason is that the Intel i3 is a low-power processor that is more than capable of streaming media from a Plex server. While it can't handle high workloads, it can work well for a dedicated Plex server.
The one reason I stated a 7th generation or later is the ability to transcode HEVC 10-bit for 4K HDR. HEVC 10-bit decoding capability was added in the 7th generation of Intel processors using their integrated graphics chips. This means that it can transcode from HEVC to H.264 if needed.
Intel has published documentation on the media capabilities supported by Intel hardware.
Running Plex with other applications or in a virtual machine
The Intel i3 will still be a good choice if you have a server running Plex with lightweight applications. Once you install other applications that require more processing power, you may need to step up to the Intel i5 7th generation or later.
The Intel i5 chip is a middle-ground chip between the low power of the Intel i3 and the high performance of the Intel i7 chips. It is still fairly low power relative to the amount of CPU performance, and some use these chips in their gaming machines.
If you do want to run some additional applications or run Plex in a virtual machine, then you may want to look into using an Intel i5 processor.
Running Plex on a gaming machine
If you currently have a gaming machine or are looking to build one, then in that case, Plex won't be the reason to choose the processor for your system.
A gaming machine is built for a purpose: playing video games with as many frames per second as possible. These machines typically use much more power, not only because they usually contain an Intel i7 or high-end AMD core, but they also contain a dedicated graphics card.
With these machines, you can use the dedicated graphics card for transcoding in Plex, or the integrated graphics card of the Intel processor.
If you choose to go with an AMD processor, as many gamers choose to do, then a dedicated graphics card would be the best option to use with Plex. At this time, Plex doesn't officially support any AMD-integrated graphics chip. While some have had success with using AMD-integrated graphics chips in their Plex server, there could be issues with doing so.
In addition, only the NVIDIA graphics cards are supported, so if you are using your gaming machine as a Plex server, then you should go with a dedicated NVIDIA graphics card when using an AMD processor
With Plex's compatibility with Intel's QuickSync, it is usually better to choose the best Intel CPU for Plex over an AMD processor.
Many users and concurrent streams
The above processors are common for small systems and full desktops. For those users that are looking to stream media to many users from a large library then a server processor such as the Intel Xeon may be a better option.
The Intel Xeon is a server processor family, and those that do have requirements to use such processors have technical skills that allow them to work with such systems.
For those starting out with Plex, I suggest you look at one of the three previously mentioned processors, and as you learn more about the technical side of running a Plex server, then you can look at running a full server.
Most Plex servers will work with an Intel i3, or i5 without any issues.
Encoding HEVC 10-bit
While not needed for Plex, if you do wish to encode HEVC 10-bit, then you should look at Intel 11th generation or later. The integrated graphics on those processors are capable of encoding HEVC 10-bit.
The 10th generation Intel processors that are Ice Lake is also capable of encoding HEVC 10-bit, but it would be easier to just go with an 11th generation rather than determine the version of the 10th generation Intel CPU.
As I mentioned earlier, there is not one size fits all when it comes to the best CPU for Plex. Everyone will have different requirements for their Plex server, so everyone will have a different reason for choosing the CPU for their server.
Regardless of your requirements, I suggest going with an Intel 7th generation or later, to get the best experience out of your Plex server.